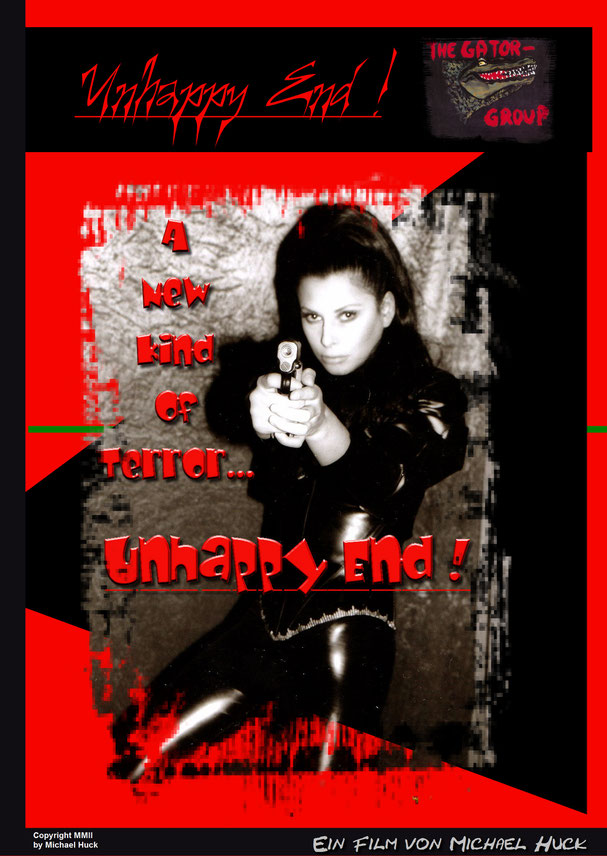 Die Schulfeindin - New DVD Cover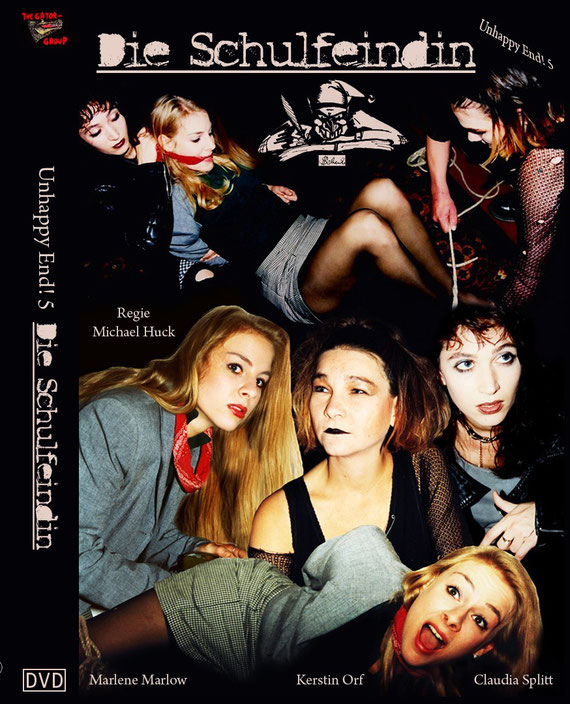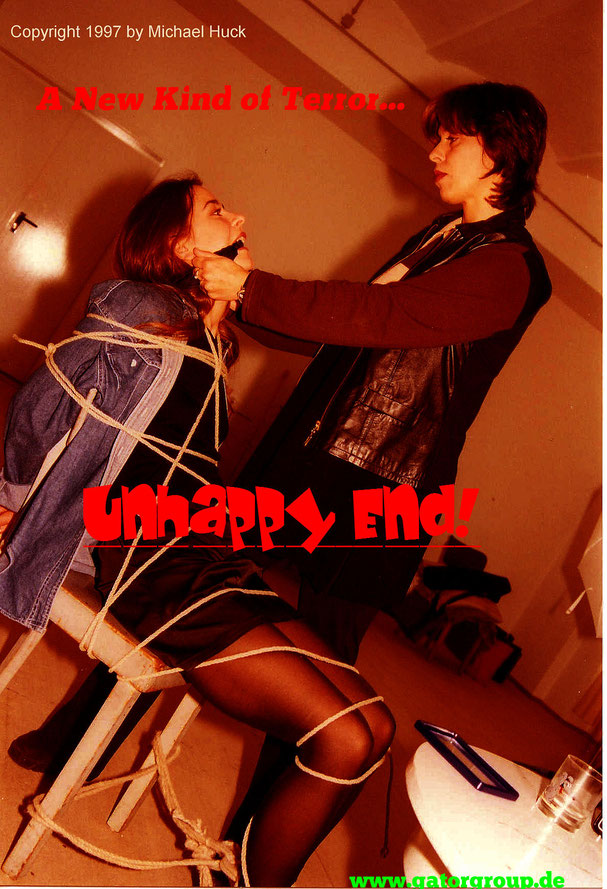 Unhappy End! - The Series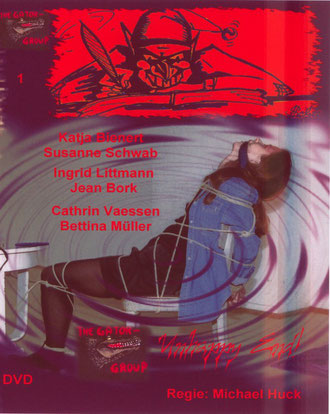 Cover of the Remastered-Digi-Version
of episodes 1-3.
The version contains a new one-hour-
edit, the former 75 minute version plus
outtakes.
Episode 1: Ein Mord aus Eifersucht
starring Bianca Lindenberg and
Maren Beutler.
Episode 2: Du sollst nicht Ehebrechen
with Ingrid Littmann and Jean Bork.
Episode 3: Die Rivalin
starring Katja Bienert and Susanne
Schwab.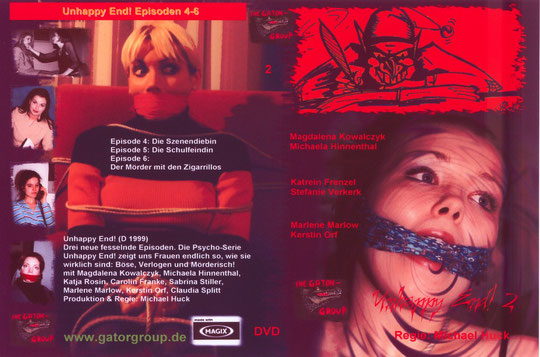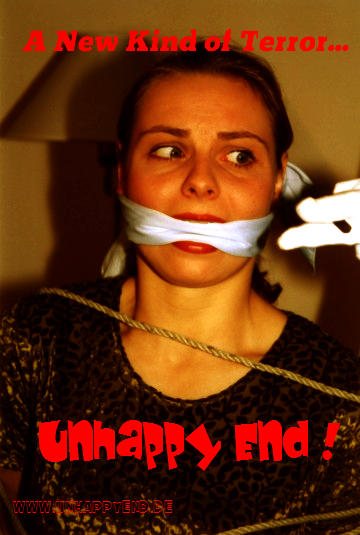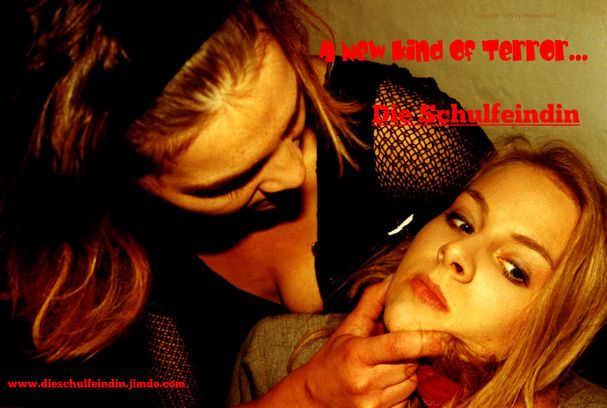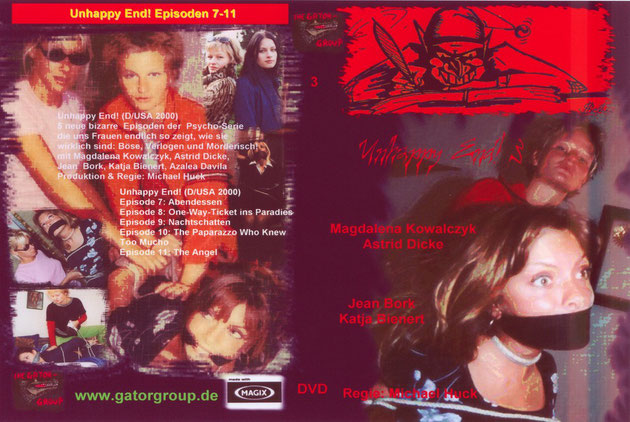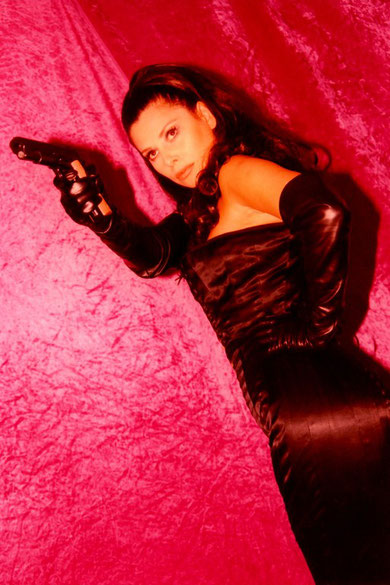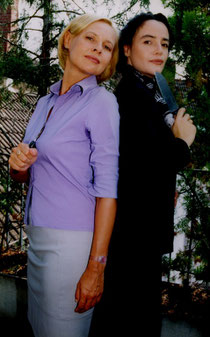 Mona Glass and Katja Bienert in
Unhappy End! - Episode 19
Die Hexe  (The Witch)
In 1992 I moved to Berlin and in 1993 Panasonic´s new MS 4 was one of the best SVHS camcorder´s.
I bought one and decided to start shooting a 15 minutes short. I wanted to have a wellknown actress
in it so it sells and I wanted to avoid the mistakes I made shooting the first The Signs of the Zodiac
with a 100 page, very boring script with too much dialogues and almost no action.
I wrote a one page expose, Die Rivalin: A jealous wife learns her husband has an affair with a young
woman and she goes to the place of that young woman, ties her up and wants to kill her, but without
knowing, she takes the innocent roommate of her husband´s lover prisoner.
This story looked much more suspenseful, had a kind of dark and sick humour like the old Alfred Hitchock presents or Roald Dahl tv series.It had a wonderful bad and crazy villainess and a totally innocent victim who cannot even tell the villainess that she is innocent because she is gagged. A total nightmare.
I now looked for two actresses to play the leads. Germany had been re-united only 4 years ago and I wanted to have two actress of both parts of Germany. For the part of the bad girl I contacted Susanna Schwab, a wellknown actress in the DDR-part of Germany and absolutely perfect in the part of the
menacing, jealous wife.
Then I looked for an actress to play the part of the young woman. By then there were around three
wellknown German actresses around 20 years of age who usually were casted in the German tv
series: Katja Bienert, Svenja Pages and Christina Plate.
Katja Bienert was on top of my list and I wrote her a letter. She was not in Germany but several
weeks later we met in Berlin and as she lived in Berlin I also realized this would save me some
money as I did not have to pay travel and hotel, something very important if you are going to shoot
low budget.
We shot "Die Rivalin" in three days and I finally had a nice little short with two very good actresses,
but you can´t sell a short very good. To distribute and sell a movie it should be 90 minutes.
I wondered how I could make now a 90 minute movie and I remembered all those Peter Cushing -
Christopher Lee horror movies with three or four short horror stories, usually shot by Amicus,
and connected by another story.
I thought the outline of our first story was great, a beautiful heroine in deadly perils, and I liked the
idea of a jealous wife or girlfriend and I wrote some more stories similar to Die Rivalin.
I hired some other great actresses and models, including Ingrid Littmann and Jean Bork who was
about to become Miss Berlin and finally wrote another story to connect the three other ones.
To make it look better I shot also a story in Los Angeles, The Kidnappers, starring Sindy Tennes
and Jennifer Behr. We shot this one in two days in Hollywood and Santa Monica and this story
was also on the first Unhappy End! VHS tape when released in 1998. Later we moved this episode
to DVD 4.
The story to connedt the other stories was about a young model who is lured to a shooting by
a photographer. The photographer wrongly suspects her to have an affair with her husband and
plans to kill her. Cathrin Vaessen played the photographer and Bettina Mueller played the part
of the model.
After post production I contacted MPW and offered them to distribute this first VHS tape, by then
there was no dvd business yet. Andreas Bethmann finally released the first tape through his
x-rated label (the name of the label IS x-rated, not the movie) and one year later three more
episodes, this time strangely re-titled Deadly Enemy (the original English title for Die Schul-
feindin (episode 5).
Later MPW sold the whole series when we started distribution ourselves. Since the late 1999s
the series is released on dvd.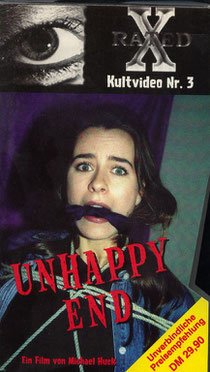 Unhappy End! Episodes 1-3
were first released as a movie
on VHS through x-rated Kultvideo.
Originally we suggested to use
a photo from episode 3 but the
distributor only a couple of days
before sales start change the photo
and took this one with Bettina Mueller.
I first thought this was a big mistake
as this gave away the final twist of the
whole movie.
In the end I must admitt this photo in-
deed represents already what Unhappy
End! would become most known for:
A very beautiful heroine in a very night-
marish deadly trap. And Bettina Mueller,
by then one of the most beautiful faces
of German tv, somehow managed to
express the series idea in this still:
beauty and horror in a much milder
way than in the now so popular saw-style pictures. I always felt, a beautiful heroine in deadly
peril, simply is more appealing than splatter scenes with blood all over the place.
That´s why I stopped and freezed the frame at the end, when the villainess (Cathrin Vaessen)
is about to cut Svenja´s (Bettina Mueller) face with the razor blade. Svenja who is totally help-
less, all tied up and gagged just faces the deadly blade and the fright in her wide open eyes
just shows all that horror. There is not one drip of blood but all the horror and pain she will en-
dure in just a second is in Svenja´s eyes. The real horror what is about to happen is not on the
screen it´s in the mind.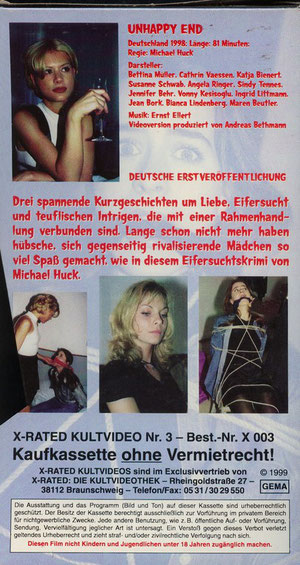 This was the first VHS tape,
released in the late 1990s
throught x-rated and sold by
MPW´s TeleMovieShop.
The first couple of episodes
already showed the direction
of the series: Extraordinary
beautiful women who get in-
volved in extraordinary bizar-
re crimes.
In one review it said there
was never a movie with so
many so beautiful women.
I liked the way the actresses
looked in those first episodes,
that is very, very cool like Jean
Bork and Maren Beutler here
on the cover. And I thought it´s
a good idea to keep this in
the episodes to come.
Unhappy End! - Terror Stalker